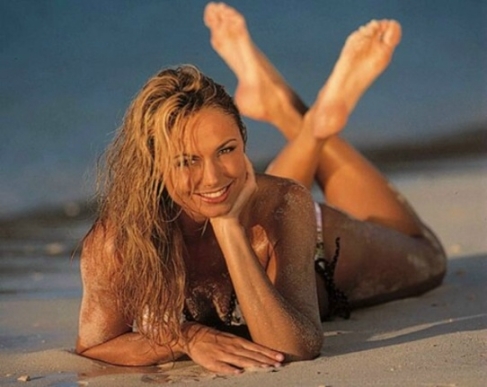 Welcome to the Novemeber update! Notice anything different?!! I've been wanting to experiment with the homepage of this site for quite sometime, and I've finally come up with a design that I'm happy with. Simple, yet sophisticated. I really hope you all like the new buttons and graphics. I'm sure no one has a problem with the choice of new "cover girl" for the site!!
I'm a little early with the update. As all of you know, I'm a Halloween fanatic, and I have some major plans this weekend, starting with Halloween night, so I decided to update early. Hope you don't mind!
LOTS of stuff this update, besides the new homepage look. First off, all four archives are updated with five pictures each. The theme this time is WWE Divas. Divas from the past and present are all over the archives. You should all enjoy that! They seem to be pretty popular requests for this site! I also have five new scans on the Bob's Barefoot Scans section. Some really nice ones! There are also ten new pictures on the Non Celebrity Soles section: five pose pictures, and five new yoga caps. Lastly, there is a new Feetured Celebrity of the Month. This is a first for me....a porn star!!! And, perhaps the most popular porn star from the last five years. Eighteen pictures of this beauty are posted (ALL clothed, sorry to say!!). TONS of great sole shots in this gallery, most I found on the Mouse Pad! Enjoy!
I need to address something, and I should have kept it posted here the first time I had to mention this. Regarding the bandwidth situation on this site...there is NOTHING I can do about it. A few months back, Tripod introduced a new pay system. It used to be 50 free MB of space and unlimited bandwidth (at least that's what it seemed to be). With the state of the economy, they had to make changes, and take some space and bandwidth away. They now only allow 20 MB of free space, and a limited amount of monthly bandwidth. If you want more, you have to pay. There are too many pages and accounts tied up in this site. If I paid for all that space and bandwidth, I'd be in the poor house. I refuse to do it. This is why I only update once a month. The best thing I can tell you all to do is to not visit this site as often! If you do that, then the bandwidth frees up a little. Whatever time the page that comes up tells you to return to view that page, that's what you do. The pages are still here, the bandwidth just needs to free up. I know this all sucks, but this is the best I can do. I still enjoy this site, and I know you all do too, so this is what we have to deal with. Please understand and try to get used to it. It's either this or the site is gone.
With that said, that's it for this month. For all of you who celebrate Thanksgiving, please have a good one. I will see you all in December!
This site is updated at the beginning OR end of every month!
Unless I say so, I lay no claim to any of the pictures on this site. Pictures found here have been found throughout the Net, including the mega HITW site.

Celebrity Soles has been visited
times since September, 1998.
Add 750,000 to the hit count!

View My Guestbook
Sign My Guestbook